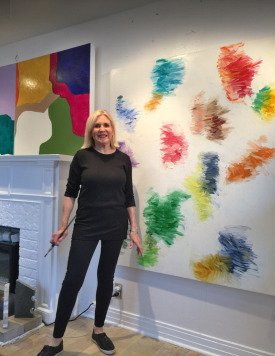 Exhibitions 2018-2019
2019
THE OTHER ART FAIR, PRESENTED BY SAATCHI ART, JURIED EXHIBIT, DALLAS MARKET CENTER, SEPTEMBER 2019
Invitation...
Complimentary Tickets...
2019
PRESERVATION IS THE ART OF THE CITY, JURIED SHOW, FWCAC, FORT W18ORTH, TX
2019
2nd INTERNATIONAL RING WIENALE, JUROR SCHULTE-BAUMINGHAUS CUMES, RINGSTRASSE GALLERY VIENNA, AUSTRIA
2019
TAC SPRING GALLERY NIGHT, JUROR WILLIAM CAMPBELL, FWCAC, FORT WORTH, TX
2019
ATRIUM GALLERY AT UNT HEALTH SCIENCE CENTER, "TWO FRIENDS", SPRING GALLERY NIGHT, FT WORTH, TX
2018
POP UP ON THE BRICKS, LISA MCCONNELL GALLERY, FORT WORTH, TX
2018
TAC LUCKY 13TH ANNUAL EXHIBIT, JUROR LAUREN CHILDS OF FORT WORKS ART, FWCAC, FORT WORTH, TX
2018
SAATCHI COLLECTION, "NEW THIS WEEK" 4-30-18, www.SaatchiArt.com
News
AN ARTIST FIRST
"Suzan Cook's life is wide-ranging and richly layered. She is an accomplished painter and sculptor who pursues her line of thought tirelessly. She is a devoted wife, mother, and family member. At various times she has been a working partner with her husband in the Texas Legislature and on their ranch in West Texas. She has worked closely with a regional museum in curating an important collection. She has moved across the country to complete her graduate degree, continually building, stretching, and refining her art. She continues to manage all aspects of her life simultaneously and joyfully.
Always, she is an artist first and foremost. The world is her workplace. She brings an artist's sensibility to the most mundane tasks as well as the most challenging concepts. The sheer diversity of her experience outweighs the solitary experimentation. She speaks of "harnessing wisdom" in her art; that wisdom is formed in the onrush of daily life and catalyzed in the crucible of the studio.
For these reasons, Cook's work continually evolves in coherent series. Rather than defining a group of themes and variations, she develops a concept in a clear, almost musical sequence of related images, which in turn leads to the next series. The images pour forth in profusion, yet with a clear and disciplined adherence to the concept at hand.
"This progression of ideas is the hallmark of Suzan Cook's work."
Suzanne Deats
---
SOMA USA, 2018 CHRISTMAS CARD, "The Redeemer"
(see below)
FORT WORTH ARTIST GIVES THE GIFT OF COLOR AT UNION GOSPEL MISSION
, 2018, Fort Worth, TX
STUDIO VISIT MAGAZINE
, VOL. 10, Summer 2010, The Open Studios Press, Boston, MA
STUDIO VISIT MAGAZINE
, VOL. 9, Spring 2010, The Open Studios Press, Boston, MA
STUDIO VISIT MAGAZINE
, VOL. 8, Winter 2009, The Open Studios Press, Boston, MA
SOMA INTERNATIONAL CHRISTMAS CARD, 2018
Art by Suzan Cook, www.suzancook.com, "The Redeemer", oil on canvas, 2015